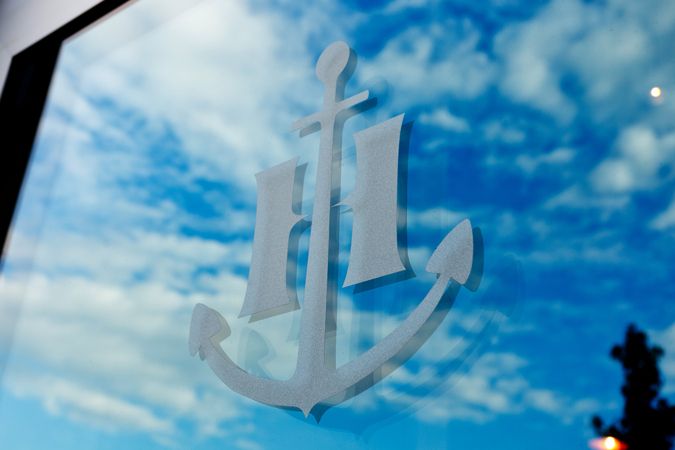 Events & Catering
Catering Hamburg: An ideal restaurant and event location in Hamburg for fantastic events at Hansekai
Are you looking for an ideal venue for your wedding, birthday or company party? At Hansekai Hamburg we make your dreams and wishes come true! The huge event location Hamburg is located directly on the Elbe island Wilhelmsburg and covers a total indoor and outdoor area of ​​350 m2. The modern and authentic location will surprise you with an excellent, professional and modern catering service Hamburg, which guarantees you a relaxed atmosphere, an unforgettable time and delicious gastronomy. The quiet and romantic ambience is a perfect event location in Hamburg for wedding catering as well as for film and photo shoots. Visit us and be pampered and inspired by our Catering Hamburg Service! Our professional and friendly service staff is always at your disposal and will support you in organizing and discussing your celebration and the menu of the occasion flawlessly.

A delicious gastronomy for your celebration
Our kitchen is equipped with the latest technology so that we can prepare the best dishes for you. With our Catering Hamburg Service you will serve home-cooked meals and our attentive staff will be at your disposal to discuss any details related to the menu for your particular occasion. We attach great importance to a meticulous selection of fresh and high-quality ingredients for your menu, so that you and your guests can enjoy delicious and unique dishes. We prepare all our food with a lot of love and effort. We offer you the opportunity to choose from a wide range of catering packages. You can choose either finger food, front cooking or unique buffets. After consultation with our service staff, you will determine the final menu for your celebration. The quality of our wedding catering service in Hamburg will surprise you positively and guarantee you a culinary pleasure. Quality, transparency and professionalism represent our business principles and for this reason the total cost of our catering service Hamburg is discussed in advance. No additional costs will be charged. Our service staff and final cleaning are included in the total cost.

Our professional services, the high-quality event location Hamburg and our excellent catering service are ideal conditions for both small celebrations and large festivities. In a modern, relaxed and stylish atmosphere you can organize your wedding, your next birthday, your company party and other special celebrations. Our service staff guarantees you excellent catering in Hamburg. Feel free to stop by during opening hours to convince yourself of the high-quality location and our services. You can also arrange appointments for visits and consultations at any time outside of our operating hours.

SOMMERFEST X HANSEKAI
External content
To protect your personal data, external content will only be displayed after confirmation by clicking the button below. After activation, data is transmitted to the respective provider. More information about this in our privacy policy.
Sie feiern, wir kümmern uns um den Rest!
The perfect terrace
External content
To protect your personal data, external content will only be displayed after confirmation by clicking the button below. After activation, data is transmitted to the respective provider. More information about this in our privacy policy.
The pergola is ready! Tables are ready for you and the kitchen is waiting for your order. After a long wait, we can finally present you our finished pergola. In this video we have put together a few impressions for you, but it's best to see our latest achievement in person over a delicious burger or a drink! We look forward to you! © 2021
A dreamy wedding with everything your heart desires at the Hansekai Hamburg
External content
To protect your personal data, external content will only be displayed after confirmation by clicking the button below. After activation, data is transmitted to the respective provider. More information about this in our privacy policy.
While the bridegroom had the photographer show him the most beautiful corners of Hamburg in order to have his beautiful bride photographed in her enchanting wedding dress by VIKTORIA KAUFMANN BRIDALS, the guests sailed across the harbor to the event location in a traditional launch. Reunited in the HANSEKAI, the celebration could really get going! After delicious drinks on the roof terrace, we went to our lovingly set tables on the large covered terrace on the Elbe Canal. Our team awaited you there with delicious food and refreshing drinks for an unforgettable evening. We would like to thank this lovely couple for their trust and wish them all the best for the future!
Kick Off Event | Summer Festival | 350 pax
External content
To protect your personal data, external content will only be displayed after confirmation by clicking the button below. After activation, data is transmitted to the respective provider. More information about this in our privacy policy.
Are you looking for the perfect location for your summer party? It could look that way! In a maritime atmosphere, we offer you excellent live BBQ, suitable side dishes and delicious drinks, right on the water. With further options, such as individual shuttles or welcome cocktails on our roof terrace, we put together the perfect package for you. Promised! © 2019
Open air summer party at Hansekai ⚓️
External content
To protect your personal data, external content will only be displayed after confirmation by clicking the button below. After activation, data is transmitted to the respective provider. More information about this in our privacy policy.
Sail by barge to your summer party at the Hansekai. Enjoy your celebration in a maritime atmosphere with a rich BBQ buffet, suitable side dishes and delicious drinks, right on the water. You celebrate... We take care of the rest! © 2018
Hansekai opening April 30, 2016
External content
To protect your personal data, external content will only be displayed after confirmation by clicking the button below. After activation, data is transmitted to the respective provider. More information about this in our privacy policy.
It was a wonderful opening! Thank you to all the guests who showed up so numerous, curious and in a good mood, had fun and breathed life into the Hansekai! Thanks also to our hard-working team, without you none of this would have worked out, you are great! And last but not least, thanks to all partners and helpers who made sure that the Hansekai became what it is today!